Posted on Dec 9, 2019 | Posted in | 0 comment
We are thankful to our customers for making TCL their #1 choice again this year for buying electronics on Daraz Gyara Gyara sale (Biggest online shopping event in Pakistan). Like every year this also TCL and Daraz fulfilled their promise of bringing high-quality products at unbelievable prices.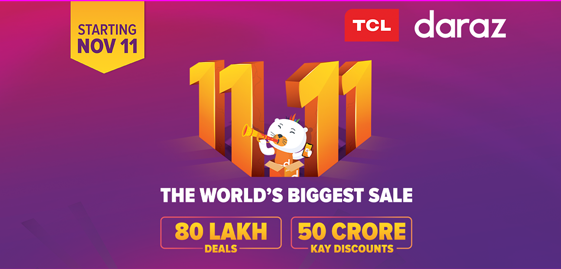 This year's response was better than the last, as TCL sold more than 8 times as compared to the previous year's sale. This feat would not have been possible without our customers and partners' support. Gyara Gyara campaign was heavily marketed by TCL on different mediums. This year TCL and Daraz collaborated with ARY for the biggest game show of Pakistan; Jeeto Pakistan. Ahmed Ali Butt who is one of the famous celebrities of Pakistan was TCL's brand ambassador. The audience of the show was engaged in different fun activities, winners of the activities were given TCL Tvs, Acs, and goodies. After the excellent response that we received from our consumers, TCL in collaboration with Daraz will be bringing to you another mega sale event 12.12.